Evaluating Direct Feeding of De-Navelled Banana Bunch with Nutrients for Enhancing Fruit Quality, Yield and Nutrient Content
S C Kotur

P R Ramesh

R Venugopalan
Keywords:
Direct Nutrient Feeding, Nitrogen, Potassium, Sulphur, Musa Sp., Grand Naine, Robusta, Dwarf Cavendish, y Poovan, Nanjangud Rasabale, Nendran, Red Banana, Banana Varieties
Abstract
Direct feeding of nutrients to bunch after de-navelling was evaluated in seven varieties of banana (Musa sp.) cvs. 'Grand Naine' (GN), 'Robusta'(R), 'Dwarf Cavendish'(DC), 'Ney Poovan'(NP), 'Nanjangud Rasabale'(NR), 'Nendran' (N) and 'Red banana' (RB) using 500g fresh cow-dung, 100ml water, and 2.5 - 10g each of urea and SOP in combinations. Across varieties, fruit and bunch weight increased by 41.5-104.0% and 44.5-97.3%, respectively, compared to 'control'. Maximum increase in fruit weight was observed with a blend of urea + SOP each at 10g in 'GN', 7.5g in 'R', 'DC', 'N' and 'RB', while, the level of urea + SOP was best at 2.5g for 'NP' and 5.0g for 'NR'. Magnitude of increase in fruit and bunch weight was higher in the cut-end (distal end) of the bunch compared to the leaf-end (proximal end). Improvement in pulp:peel ratio was best in 'NP' (4.29-5.91) and 'NR' (2.99-4.32), while, it was lowest in 'GN' (2.69- 2.72). Total soluble solids (TSS) in the pulp decreased with increasing fruit/bunch yield. 'N' showed an increase in TSS from 23.9-24.8°Brix in 'control', to 27.1-27.2° at 7.5g each combined urea and SOP application. Benefit: cost increased from 0.35 to 1.20 in 'GN', 0.79 to 1.62 in 'R', 0.60 to 1.43 in 'DC', 3.01 to 5.22 in 'NP', 2.16 to 3.41 in 'NR', 1.37 to 3.67 in 'N' and from 2.82 to 4.96 in 'RB', indicating obvious profitability of the technique. Nutrient composition in respect of N, K and S showed a general increase consequent to direct nutrient feeding. Differences in fruit quality and nutrient composition between the top and the bottom portion of the bunch differed with variety.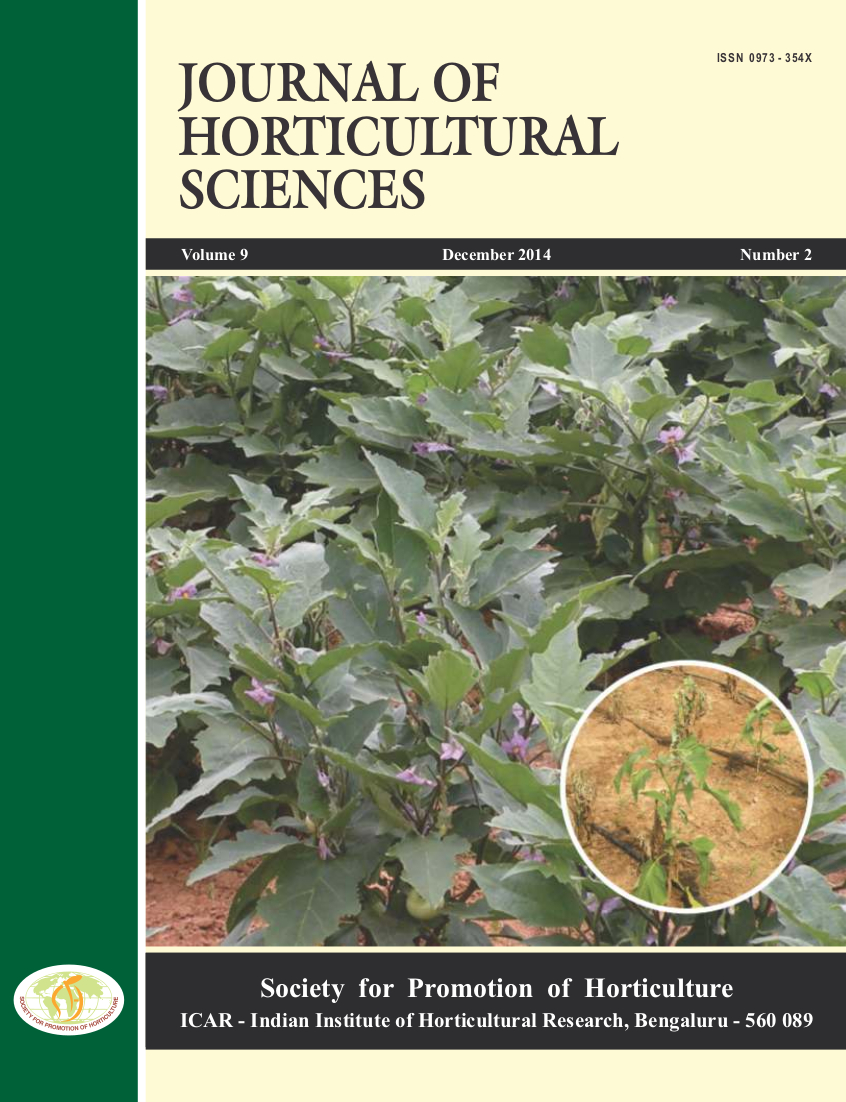 How to Cite
Kotur, S. C., Ramesh, P. R., & Venugopalan, R. (2014). Evaluating Direct Feeding of De-Navelled Banana Bunch with Nutrients for Enhancing Fruit Quality, Yield and Nutrient Content. Journal of Horticultural Sciences, 9(2), 166-171. Retrieved from https://jhs.iihr.res.in/index.php/jhs/article/view/190
Section
Original Research Papers
Authors retain copyright. Articles published are made available as open access articles, distributed under the terms of the Creative Commons Attribution-NonCommercial-ShareAlike 4.0 International License, which permits unrestricted non-commercial use, distribution, and reproduction in any medium, provided the original author and source are credited.
This journal permits and encourages authors to post items submitted to the journal on personal websites or institutional repositories after publication, while providing bibliographic details that credit, if applicable, its publication in this journal.