Metabolite profiling in Mango (Mangifera indica L.) pollen grains in relation to viability
K S Shivashankara

G A Geetha

T K Roy
Keywords:
Pollen,, viability,, LC-MS,, amino acids,, sugars,, mango,, hormones
Abstract
Mango productivity is affected mainly by irregular flowering, proportion of bisexual flowers, poor pollination and fertilization and fruit drop. Poor fruit set in some of the varieties may be associated with the lower pollen viability. The present experiment was initiated to assess the viability of pollen grains and their metabolites in three mango cultivars Amrapali, Alphonso and Totapuri which are differing in their fruit set intensity. The profiling of sugars, amino acids and some of the phytohormones were analysed using Liquid Chromatography-Mass Spectrometry (LC-MS/MS). Assessment of pollen grains in three mango cultivars indicated that free sugars such as fructose and glucose, and available amino acids including serine, proline, lysine, phenylalanine, alanine and glutamic acid were predominantly higher in all the cultivars. Phytohormones like IAA, IBA, ABA, GA,
zeatin, jasmonic acid and salicylic acid were significantly different in low fruit setting cultivars Alphonso and Totapuri compared to high fruit setting cultivar Amrapali. In cv. Alphonso all the metabolites were higher at anthesis but later decreased drastically compared to cvs. Totapuri and Amrapali. Pollen viability percentage was significantly higher in cv. Amrapali than in cvs. Totapuri, Alphonso. Among all the cultivars, Amrapali maintained better chemical composition at anthesis and also at two hours after anthesis compared to cvs. Totapuri and Alphonso.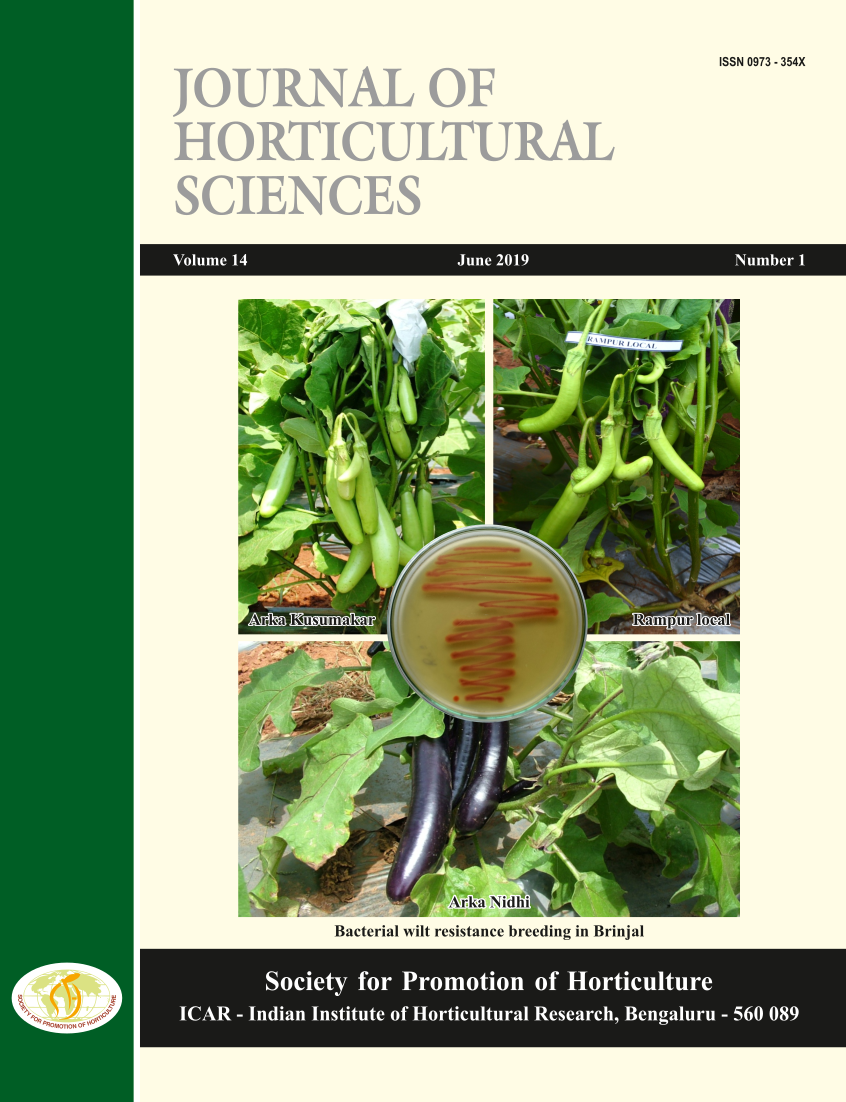 How to Cite
Shivashankara, K. S., Geetha, G. A., & Roy, T. K. (2019). Metabolite profiling in Mango (Mangifera indica L.) pollen grains in relation to viability. Journal of Horticultural Sciences, 14(1), 33-42. Retrieved from https://jhs.iihr.res.in/index.php/jhs/article/view/710
Section
Original Research Papers
Authors own the copyright and grant the journal, JHS and the society, SPH non-exclusive right to publish and distribute under the Creative Commons Attribution-NonCommercial-ShareAlike 4.0 International License