Management of Potato Nematodes:An overview
Keywords:
Root-Knot Nematodes, Cyst Nematodes, Late Blight Disease, Pathotypes, Virulent Strains, Host Resistance, Crop Rotation, Cropping Sequence, Integrated Management
Abstract
Root-knot nematodes and cyst nematodes are important constraints that reduce potato yields in India. Three species of Meloidogyne cause root-knots on the crop throughout the country, of which, M. incognita is more wide-spread. Infected tubers also result in marketable-yield-loss particularly in the seed potatoes. The cyst nematodes include two species of Globodera restricted to the hilly regions of Tamil Nadu and are of quarantine importance, inhibiting seedpotato production. Potato produce from these hills is used only for consumption. The endoparasitic nature of their life cycle, deposition of eggs into a gelatinous egg mass in root knot and the female turning in to a hard cyst encompassing the eggs within them in cyst nematode makes them difficult organisms to manage. Both these nematodes exhibit physiologic variation, hence, their management is not absolute with host-resistance. Therefore, an Integrated Nematode Management (INM) is adopted in both the cases. Root-knot nematode in North India is managed using nematode-free seed tubers, crop rotation with maize or wheat and application of 1-2 kg ai /ha Carbofuran 3% G at the time of potato planting. Cyst nematode in Tamil Nadu hills is managed by crop rotation with vegetables, particularly cabbage and carrot, intercropping potato with beans or wheat, alternating nematode resistant potato variety 'Kufri Swarna' and application of 2 kg ai /ha Carbofuran 3% G at planting. A two-year adoption of INM for root-knot and a three-year INM practice for cyst nematodes gives efficient and economical production system. Potato farmers in Himachal Pradesh and Tamil Nadu hills follow practices standardized at the Central Potato Research Institute, Shimla and it's substation in the Nilgiri hills.
Downloads
Download data is not yet available.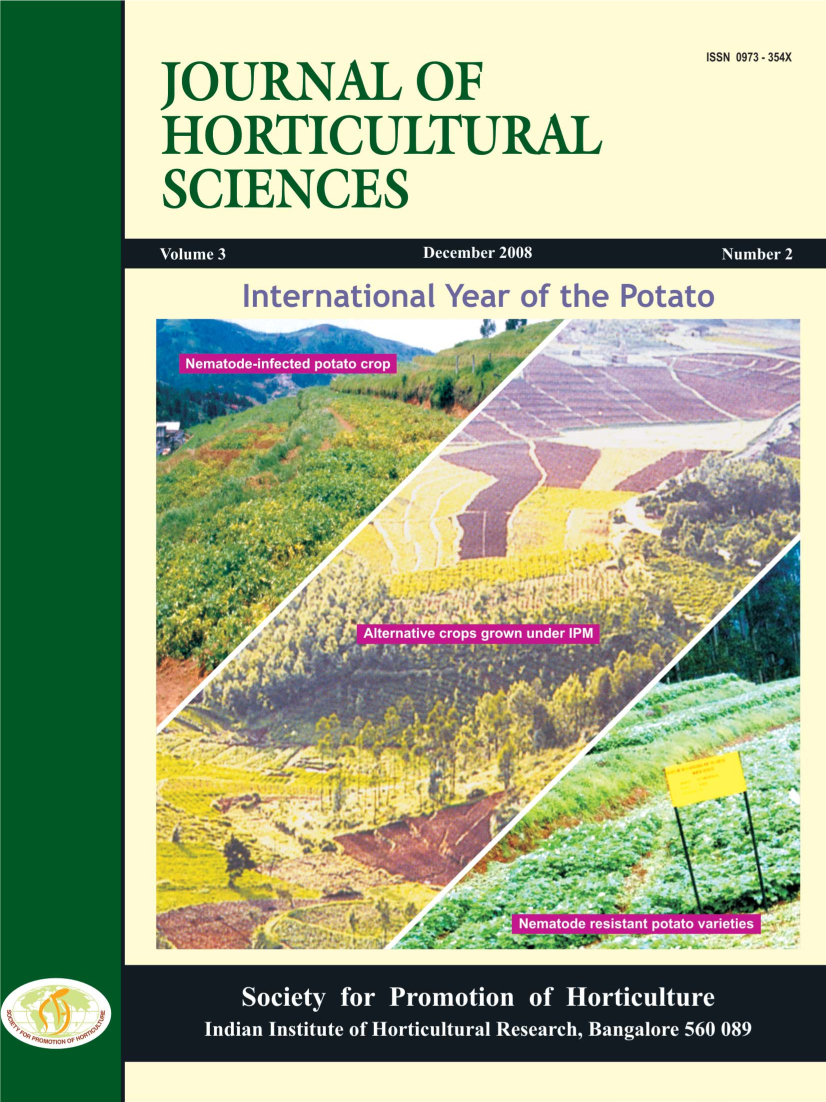 Downloads
How to Cite
Prasad, K. S. K. (2008). Management of Potato Nematodes:An overview. Journal of Horticultural Sciences, 3(2), 89–106. Retrieved from https://jhs.iihr.res.in/index.php/jhs/article/view/567
License
Authors retain copyright. Articles published are made available as open access articles, distributed under the terms of the Creative Commons Attribution-NonCommercial-ShareAlike 4.0 International License, which permits unrestricted non-commercial use, distribution, and reproduction in any medium, provided the original author and source are credited.
This journal permits and encourages authors to share their submitted versions (preprints), accepted versions (postprints) and/or published versions (publisher versions) freely under the CC BY-NC-SA 4.0 license while providing bibliographic details that credit, if applicable.