Effect of Spacing and Pruning on Growth, Yield and Quality of Cv. Deanna Fig (Ficus carica L.)
Keywords:
Ficus carica, Fig Deanna, Growth, Pruning, Fruit Quality, Spacing, Yield
Abstract
The effects of tree spacing (5x2m, 5x2.5m, 5x3m, 5x3.5m and 5x4m) and pruning (8 buds/cane, 6 buds/cane and 4 buds/cane) on vegetative growth, physiological parameters, fruit yield and quality were studied in fig (Ficus carica L.) cv. Deanna in the 3rd and 4th year of its growth during the period 2010-12. It was observed that with increase in tree spacing, growth parameters like leaf number, shoot length, internode length, tree-spread, tree height and tree circumference, along with fruit yield both in terms of fruit number and fruit weight per tree, declined gradually under different pruning levels. Increase in pruning level from 8 buds/cane to 4 buds/cane resulted in increased leaf number, shoot length and internode length. Yield characters, viz., fruit number/tree, fruit weight/tree, fruit number/hectare and fruit weight/hectare were marginally influenced by pruning. However, interaction effects of pruning and spacing were found to be non-significant. Consistently declining trends in photosynthesis rate and stomatal conductance, along with increase in leaf water potential value were observed with increase in spacing. Effects of spacing were more conspicuous than those of pruning. Best results for maintenance of vigour and fruit yield were observed under a spacing of 5x2m or 5x2.5m, and 4 buds/cane pruning. Although there was reduction in average fruit size under closer spacing when compared to wide spacing, fruit quality attributes like TSS and acidity were not affected by various treatments. Effects of closer spacing on growth and yield parameters were more pronounced in the 3rd year as compared to the 4th year, showing better response to treatments in young trees. Fruit yield calculated on per hectare basis showed highest fruit number of 116500-133750 and 274500-299500, and fruit weight of 54.5-62.0 and 158.77- 173.30 quintals/ha, respectively, during the 3rdand 4th year of planting under closer spacing of 5x2m and 4 buds/cane pruning.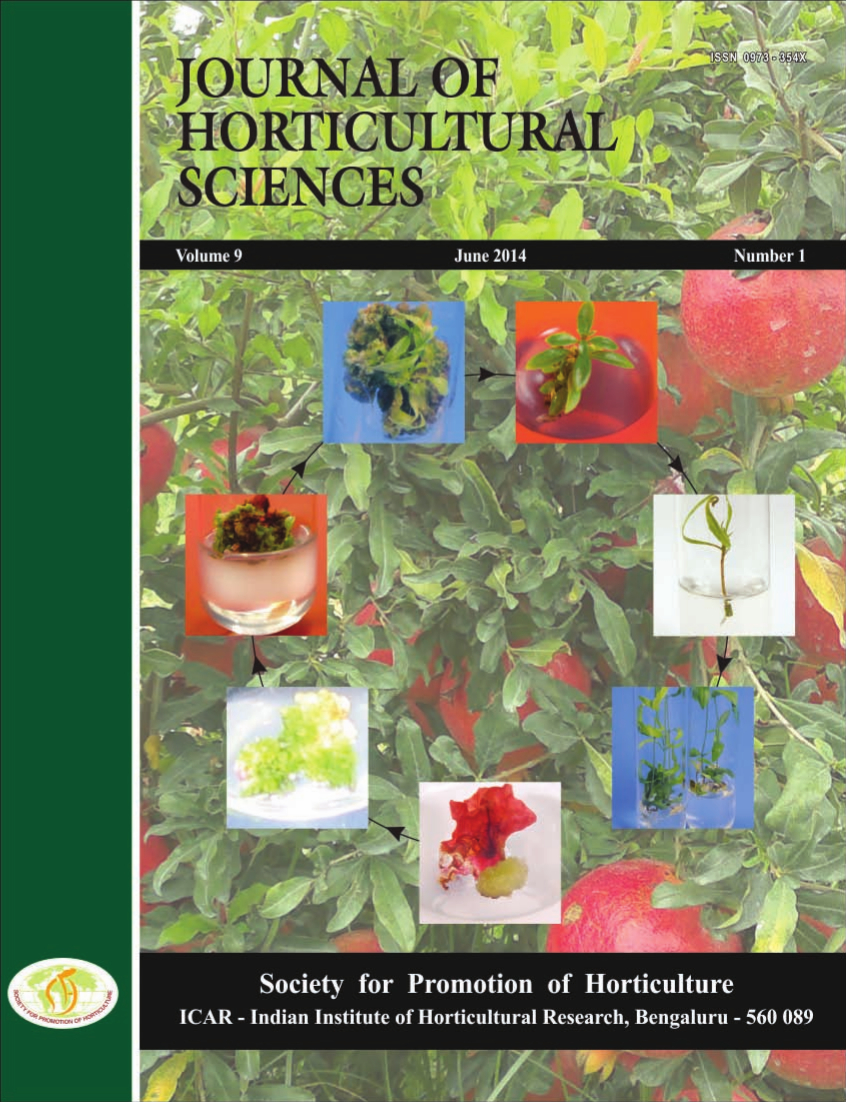 Downloads
How to Cite
Kumar, R., Ganesh, S., Chithiraichelvan, R., Upreti, K. K., & Sulladmath, V. V. (2014). Effect of Spacing and Pruning on Growth, Yield and Quality of Cv. Deanna Fig (Ficus carica L.). Journal of Horticultural Sciences, 9(1), 31-37. Retrieved from https://jhs.iihr.res.in/index.php/jhs/article/view/215
Section
Original Research Papers
License
Authors retain copyright. Articles published are made available as open access articles, distributed under the terms of the Creative Commons Attribution-NonCommercial-ShareAlike 4.0 International License, which permits unrestricted non-commercial use, distribution, and reproduction in any medium, provided the original author and source are credited.
This journal permits and encourages authors to post items submitted to the journal on personal websites or institutional repositories after publication, while providing bibliographic details that credit, if applicable, its publication in this journal.