Mushrooms for integrated and diversified nutrition
Meera Pandey

ICAR-Indian Institute of Horticultural Research, Bengaluru 560089

G.C. Satisha

ICAR-Indian Institute of Horticultural Research, Bengaluru 560089

Shamina Azeez

ICAR- Indian Institute of Horticultural Research, Bengaluru 560089

G. Senthil Kumaran

ICAR- Indian Institute of Horticultural Research, Bengaluru 560089

Chandrashekara C

ICAR- Indian Institute of Horticultural Research, Bengaluru 560089
Keywords:
Mushroom, Nutrition, Oyster, Shiitake, Protein
Abstract
            Mushrooms were considered as "Objects of mystery" by the primitive man, and were realized as food much before civilization. Mushrooms have been variously used in different cultures from being priced as "Food of Gods" in the Roman culture to tools of psychological sedation for the Mexican warriors. Most of the edible mushrooms are saprophytic growing on decomposed organic plant matter. Mushrooms play varied and important roles in human nutrition and health. They are unique nutrition dense vegetables with quality high protein, very low fat, zero cholesterol, low carbohydrates, low glycemic index, high fiber, good cardiac friendly sodium to potassium ratio and some unique bioactive compounds like ergothioneine and polysaccharides. These unique nutritive properties of mushrooms make them a recommended food for diabetics, body weight management, hypertension and cardiac well-being. The concept of selenium rich mushrooms for slowing down the progress of AIDS has been gaining importance in the recent years. Apart
from being a healthy vegetable, the unique lignocellulosic waste-based production system of mushrooms makes them the most ecofriendly zero waste green technology with immense environmental benefits (Gupta et al., 2004, Jain et al., 2014 and & Pandey et al., 2014). Despite many environmental and nutritional benefits; mushrooms yet have not become a part of daily nutrition in the Indian diet and the per capita consumption still remains very low at 70 grams per annum. There is a need to educate and enhance the awareness among the people about the nutritional and health potential of mushrooms. There is also the need to draw the attention towards integrating mushroom technology in successful agro-residue management programs, livelihood programs, national nutrition programs and women empowerment and rural development schemes which ultimately culminate in providing better daily nutrition.
Downloads
Download data is not yet available.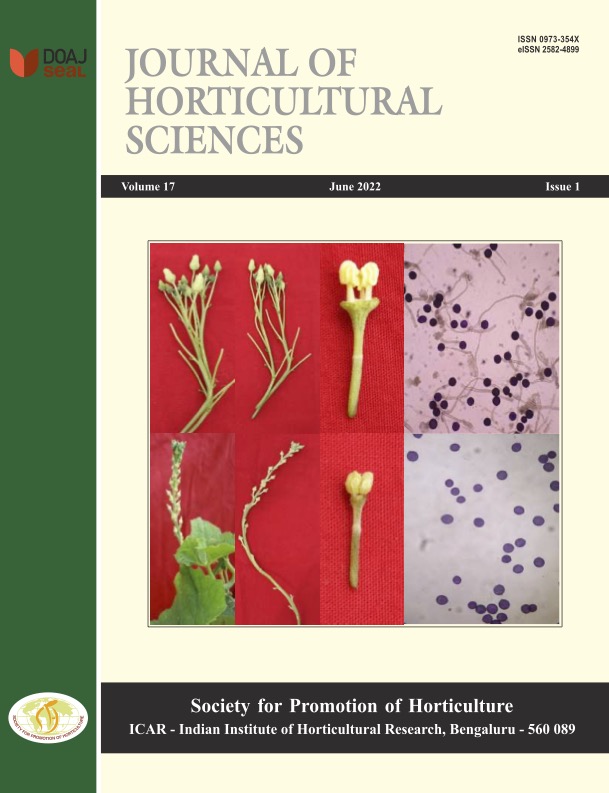 How to Cite
PandeyM., G.C. Satisha, AzeezS., Kumaran G. S., & CC. (2022). Mushrooms for integrated and diversified nutrition. Journal of Horticultural Sciences, 17(1), 6-18. https://doi.org/10.24154/jhs.v17i1.1193
Copyright (c) 2022 Meera Pandey, G.C. Satisha, Shamina Azeez, G. Senthil Kumaran , Chandrashekara C
This work is licensed under a Creative Commons Attribution-NonCommercial-ShareAlike 4.0 International License.
Authors retain copyright. Articles published are made available as open access articles, distributed under the terms of the Creative Commons Attribution-NonCommercial-ShareAlike 4.0 International License, which permits unrestricted non-commercial use, distribution, and reproduction in any medium, provided the original author and source are credited.
This journal permits and encourages authors to share their submitted versions (preprints), accepted versions (postprints) and/or published versions (publisher versions) freely under the CC BY-NC-SA 4.0 license while providing bibliographic details that credit, if applicable.