Influence of De-Navelling and Stalk-End Nutrient Application on Nutrient Composition of 'Robusta' Banana Fruits
Keywords:
De-Navelling, External Feeding, Nitrogen, Potassium, Sulphur, 'Robusta' Banana, Musa Sp. (AAA), Composition of Fruit.
Abstract
The contents of N, P, Mg, S, Fe and Mn in banana fruit increased significantly due to denavelling from 0.32%, 0.086%, 0.12%, 0.024%, 52 ppm and 4.8 ppm, under 'control' to 0.37%, 0.085%, 0.13%, 0.027%, 59 ppm and 6.7 ppm, respectively. Dipping stalk end of the bunch in fresh cow dung enhanced these above nutrients to 0.40%, 0.086%, 0.14%. 0.028%, 63 ppm and 7.6 ppm, respectively. When cow dung was enriched with ammonium sulphate, the fruits showed 0.50-0.51% of N, 0.081-0.090% of P, 0.16-0.23% of Mg, 0.032-0.040% of S, 59-111 ppm of Fe and 8.1-17.8 ppm of Mn. Addition of potassium sulphate further enhanced this effect in respect of K (2.11-2.44%) and Fe (74-115 ppm) in fruit. Increasing level of ammonium sulphate in the blend significantly decreased Ca content of the fruit from 0.24% at 5 g to 0.10% at 25 g. When potassium sulphate was included in the blend, Ca content showed further reduction (0.19% at 5 g to 0.10% at 25g). At 15 g of ammonium sulphate and 7.5 g of potassium sulphate the maximum bunch weight of 27.993 kg was obtained (as against 16.724kg under retention of male bud throughout) corresponding to the enhanced nutrient composition of 2.44% of K, 0.12% of Ca, 0.18% of Mg, 0.033% of S, 115ppm of Fe and 14.9ppm of Mn that may have nutraceutical implications.
Downloads
Download data is not yet available.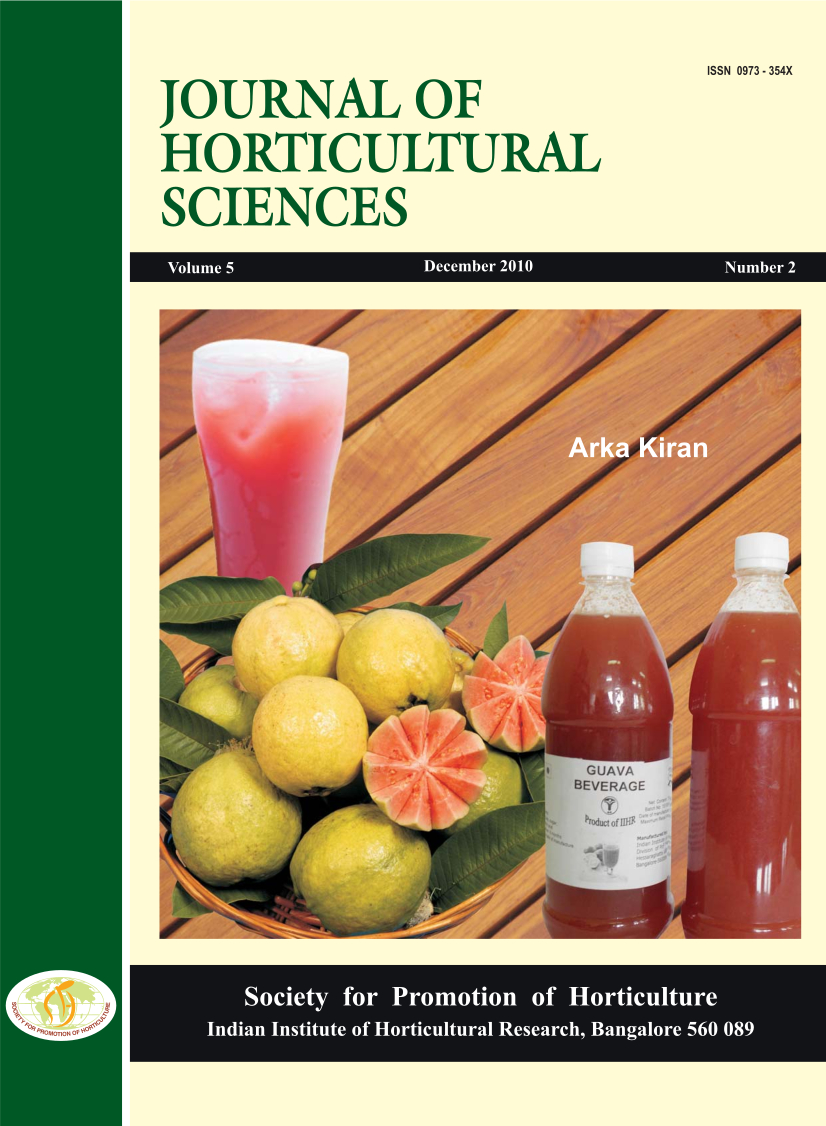 Downloads
How to Cite
Kotur, S. C., & Keshava Murthy, S. V. (2010). Influence of De-Navelling and Stalk-End Nutrient Application on Nutrient Composition of 'Robusta' Banana Fruits. Journal of Horticultural Sciences, 5(2), 148–150. https://doi.org/10.24154/jhs.v5i2.466
Section
Short Communications
License
Authors retain copyright. Articles published are made available as open access articles, distributed under the terms of the Creative Commons Attribution-NonCommercial-ShareAlike 4.0 International License, which permits unrestricted non-commercial use, distribution, and reproduction in any medium, provided the original author and source are credited.
This journal permits and encourages authors to share their submitted versions (preprints), accepted versions (postprints) and/or published versions (publisher versions) freely under the CC BY-NC-SA 4.0 license while providing bibliographic details that credit, if applicable.