Evaluation of Solanum species and eggplant cultivated varieties for bacterial wilt resistance
T H Singh

DC Lakshmana Reddy

C Anand Reddy

A T Sadashiva

P Pandyaraj

Y B Manoj
Keywords:
Wild Solanum species,, Eggplant,, Ralstonia solanacearum,, Disease scoring,, Grafting
Abstract
Bacterial wilt caused by Ralstonia solanacearum is one of the major diseases in Solanum species including cultivated Eggplant (Solanum melongena L.). Bacterial wilt (BW) disease management in eggplant is difficult due to high survival rate of pathogen in soil and chemical application is not eco-friendly. The best way to avoid bacterial wilt in eggplant is using disease-resistant varieties. However, only a limited number of bacterial wilt resistant varieties are available and, there is a necessity to identify and/or develop new resistant varieties. In the current study, wild Solanum species, and eggplant cultivated varieties were evaluated against Ralstonia solanacearum, and disease incidence was recorded. The cultivated varieties IIHR-108, Pusa Purple Long and Rampur Local were identified as susceptible, whereas, IIHR-7 and CARI-1 were identified as resistant to bacterial wilt. These resistant wild and cultivated varieties can be used as a root-stock in bacterial
wilt disease resistant breeding programmes.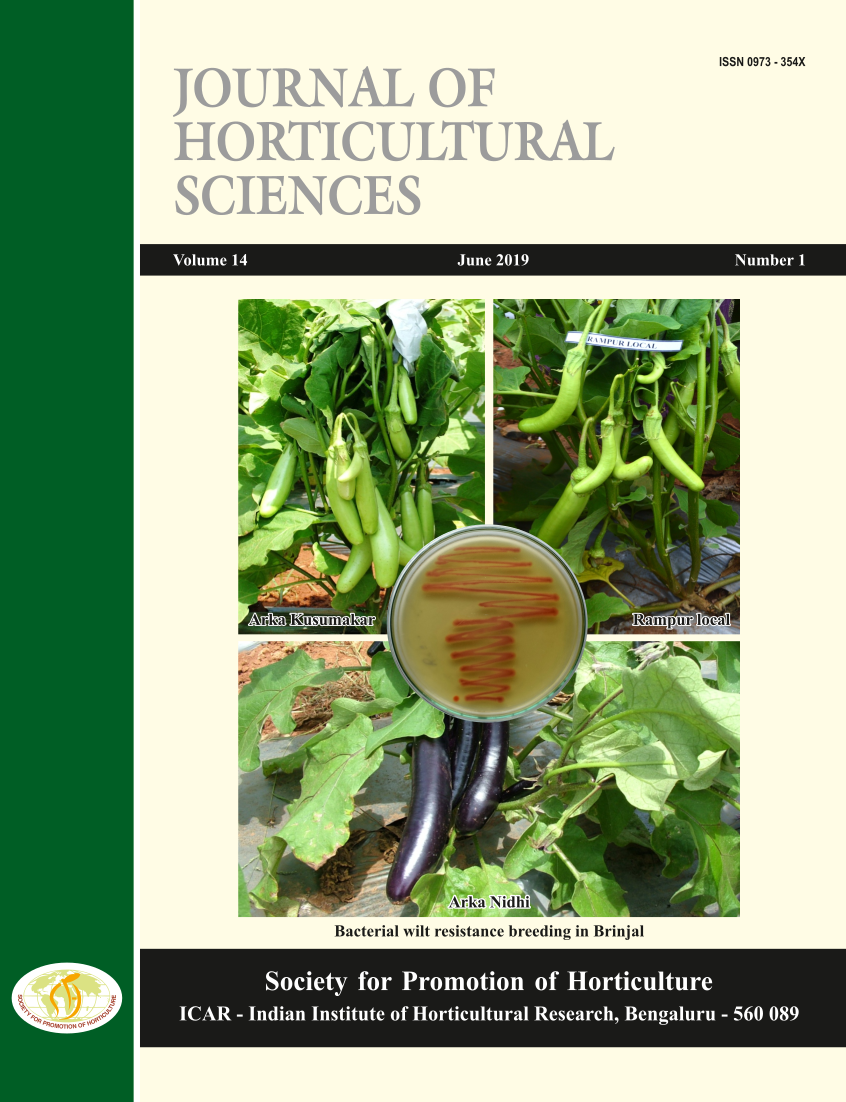 How to Cite
Singh, T. H., Reddy, D. L., Reddy, C. A., Sadashiva, A. T., Pandyaraj, P., & Manoj, Y. B. (2019). Evaluation of Solanum species and eggplant cultivated varieties for bacterial wilt resistance. Journal of Horticultural Sciences, 14(1), 13-19. Retrieved from https://jhs.iihr.res.in/index.php/jhs/article/view/713
Section
Original Research Papers
Authors own the copyright and grant the journal, JHS and the society, SPH non-exclusive right to publish and distribute under the Creative Commons Attribution-NonCommercial-ShareAlike 4.0 International License