Morphophysiological characters of Dendrobium var. Yellow Splash as influenced by bioinoculants and different levels of benzyladenine
P Shilpa

Mini Sankar

P K Sudhadevi

C K Geetha

Reshmi Vijayaraghavan
Keywords:
Bio inoculants, benzyl adenine, AMF, Azospirillum and PGPR Mix 1
Abstract
Dendrobium is the most commonly grown tropical orchid species in India and Kerala. They are highly specific about their nutrient requirement. The use of bio-inoculants in crop production of ornamentals has opened up a new possibility of using them for improving the growth and yield of orchids. Hence the objective of study was to evaluate the response of Dendrobium cv. Yellow Splash to different kinds of bio-inoculants viz., AMF, Azospirillum and a microbial consortia PGPR Mix – 1 developed from KAU, along with 50, 100 and 150 ppm of benzyladenine. The experiment consisted of ten different treatments involving bio-inoculants and benzyladenine. Plant height and number of leaves were maximum in the plants inoculated with AMF along with 100 ppm benzyladenine. Treatment comprising of Azospirillum and 100 ppm benzyladenine was superior in terms of other morphological parameters like leaf breadth, leaf area and plant spread. Maximum leaf length and highest number of shoots were observed in plants inoculated with Azospirillumand 150 ppm benzyladenine. Considering the floral parameters, both quantitative and qualitative attributes were found to be superior in the treatment consisting of AMF along with 150 ppm benzyladenine. Highest root length was observed under the treatment AMF along with 100 ppm benzyladenine while number of roots and root volume were maximum in the plants inoculated with Azospirillum and 150 ppm benzyladenine. Plants inoculated with AMF and 100 ppm benzyladenine had highest chlorophyll content while highest stomatal frequency was observed under the treatment Azospirillum and 100 ppm BA. From the study it could be concluded that inoculation of Dendrobium orchids with bio-inoculants like AMF and Azospirillum can significantly improve the morphological characters of the plants which in turn influence the production of quality spikes.
Downloads
Download data is not yet available.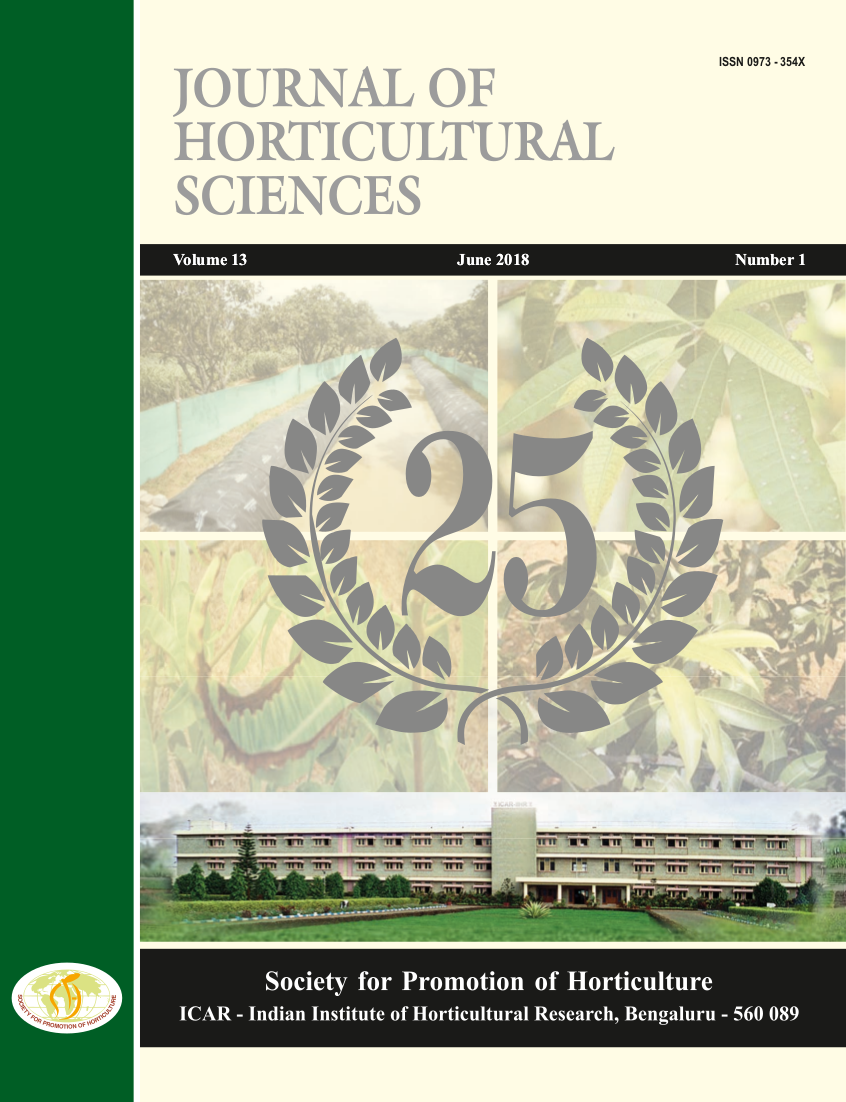 How to Cite
Shilpa, P., Sankar, M., Sudhadevi, P. K., Geetha, C. K., & Vijayaraghavan, R. (2018). Morphophysiological characters of Dendrobium var. Yellow Splash as influenced by bioinoculants and different levels of benzyladenine. Journal of Horticultural Sciences, 13(1), 54-60. https://doi.org/10.24154/JHS.2018.v13i01.006
Section
Original Research Papers
Authors retain copyright. Articles published are made available as open access articles, distributed under the terms of the Creative Commons Attribution-NonCommercial-ShareAlike 4.0 International License, which permits unrestricted non-commercial use, distribution, and reproduction in any medium, provided the original author and source are credited.
This journal permits and encourages authors to share their submitted versions (preprints), accepted versions (postprints) and/or published versions (publisher versions) freely under the CC BY-NC-SA 4.0 license while providing bibliographic details that credit, if applicable.