Effect of configuration of calyx in cowpea flowers on infestation by spotted pod borer, Maruca vitrata (Fab.) (Lepidoptera: Crambidae)
A N Nasiya-Beegum

Madhu Subramanian
Keywords:
Calyx,, resistant,, cowpea,, pod,, Maruca vitrata
Abstract
Twenty cowpea accessions were evaluated for resistance to the spotted pod borer, Maruca
vitrata in the Department of Agricultural Entomology, College of Horticulture, Kerala
Agricultural University, Thrissur. The calyxes of the flowers were examined and the accessions
were categorized into two groups, partially free (major portion of the sepals free, the basal
portion tight) and semi tight (major portion of the sepals tight, only the tip free). Significant
variation was observed in terms of damage to cowpea flowers due to spotted pod borer. The
highest extent of flower damage (50.39 %) was recorded in case of Bhagyalakshmy.
Categorization of the different accessions on the basis of the configuration of calyx indicated
that EC 100092, Palakkadanthandanpayar, TVX – 944, EC 300039, IC 20645 and IC 52110 had
semi tight calyx characterized by tight sepals with tips alone being free. All these accessions
had consistently low levels of infestation ranging from zero to 3.16 per cent. The accessions C
– 152, Kanakamony, PKM – 1, Anaswara, IC 20431, Sreya, Hridya, Mysore local, IC 52105,
Kashikanchan, Vellayani Jyothika, Malika, Bhagyalakshmy and Lola had major portion of
sepals free with their basal portion tight. Hence, they were grouped as partially free. Free
sepals would provide the first instar borer larvae some extent of concealment as well as enable
it to bore into the flower more easily. Tight calyx, thus, could possibly have a deterrent effect
on the first instar larvae entry.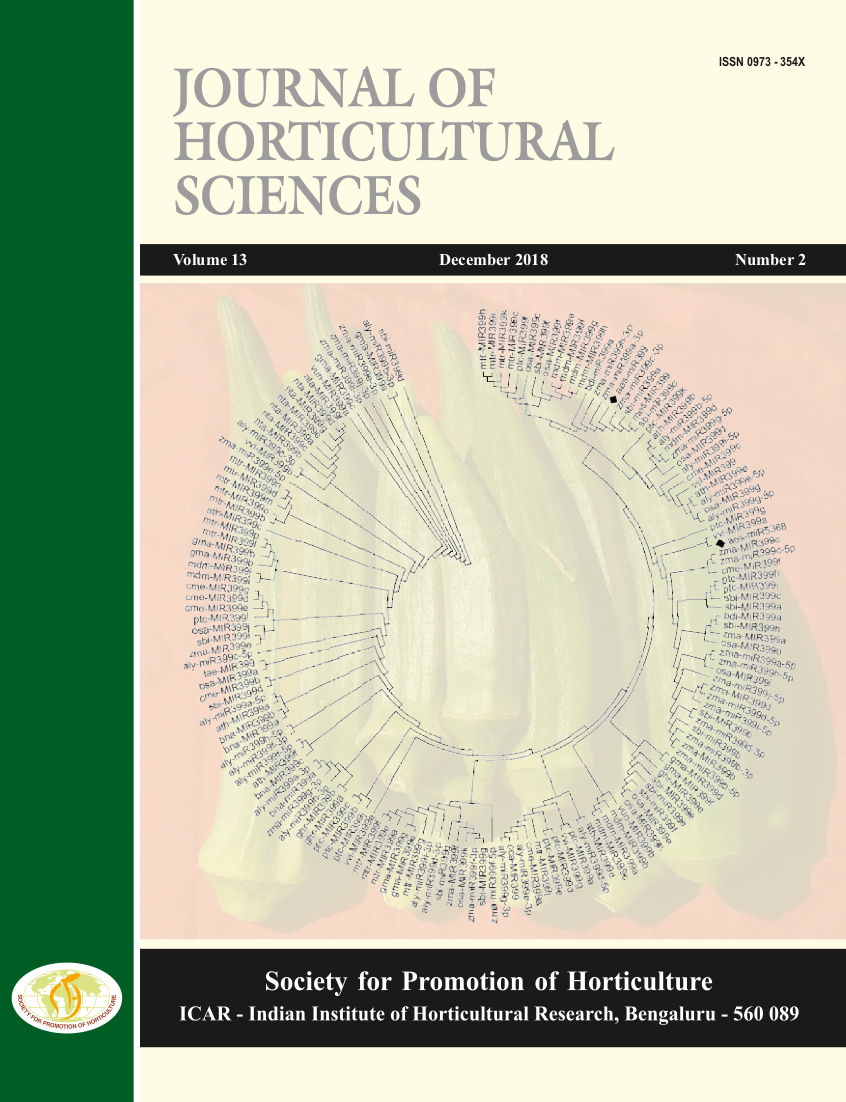 How to Cite
Nasiya-Beegum, A., & Subramanian, M. (2019). Effect of configuration of calyx in cowpea flowers on infestation by spotted pod borer, Maruca vitrata (Fab.) (Lepidoptera: Crambidae). Journal of Horticultural Sciences, 13(2), 209-212. Retrieved from https://jhs.iihr.res.in/index.php/jhs/article/view/519
Section
Short Communications
Authors own the copyright and grant the journal, JHS and the society, SPH non-exclusive right to publish and distribute under the Creative Commons Attribution-NonCommercial-ShareAlike 4.0 International License