Variation in the Interactions among soil K+, Ca++, Mg++ and Na+ ions as influenced by the variety and rootstock in grape
S D Shikhamany

J N Kalbhor

T S Shelke

T S Mungare
Keywords:
Cations,, interactions,, grape,, variety,, rootstock
Abstract
A nutritional survey was conducted to study the influence of variety and rootstock on interaction
among K+, Ca++, Mg++and Na+ ions in grape during 2012-14. Soil cation contents did not correlate
with their respective contents in petioles indicating a strong antagonism among them. Quadratic
relationship of soil cations with the absorption (ratio of petiole content to soil content) of other
ions revealed that the antagonism among cations was observed in case of soil K+ with Ca++ and
Na+ absorption on 110R and Dog Ridge rootstocks, soil Ca+ with K+ and Mg++ and Na+ in Sonaka
variety and Na+ in own rooted vines, soil Mg++ with Ca++ and Na+ also in own rooted vines; and
Na++ with Ca++ and Mg++ respectively in 2A clone and Dog Ridge. Contrarily, increased absorption
of K+ by soil Ca++ on 110R, Na+ and K+ by soil Mg++ respectively in Sonaka and 110R, and Ca++
by soil Na+ on Dog Ridge was also observed. All the soil cations together influenced K+ absorption
most in Sonaka followed by Mg++ absorption in 2A clone, but Ca++ absorption on Dog Ridge
followed by K+ on 110R.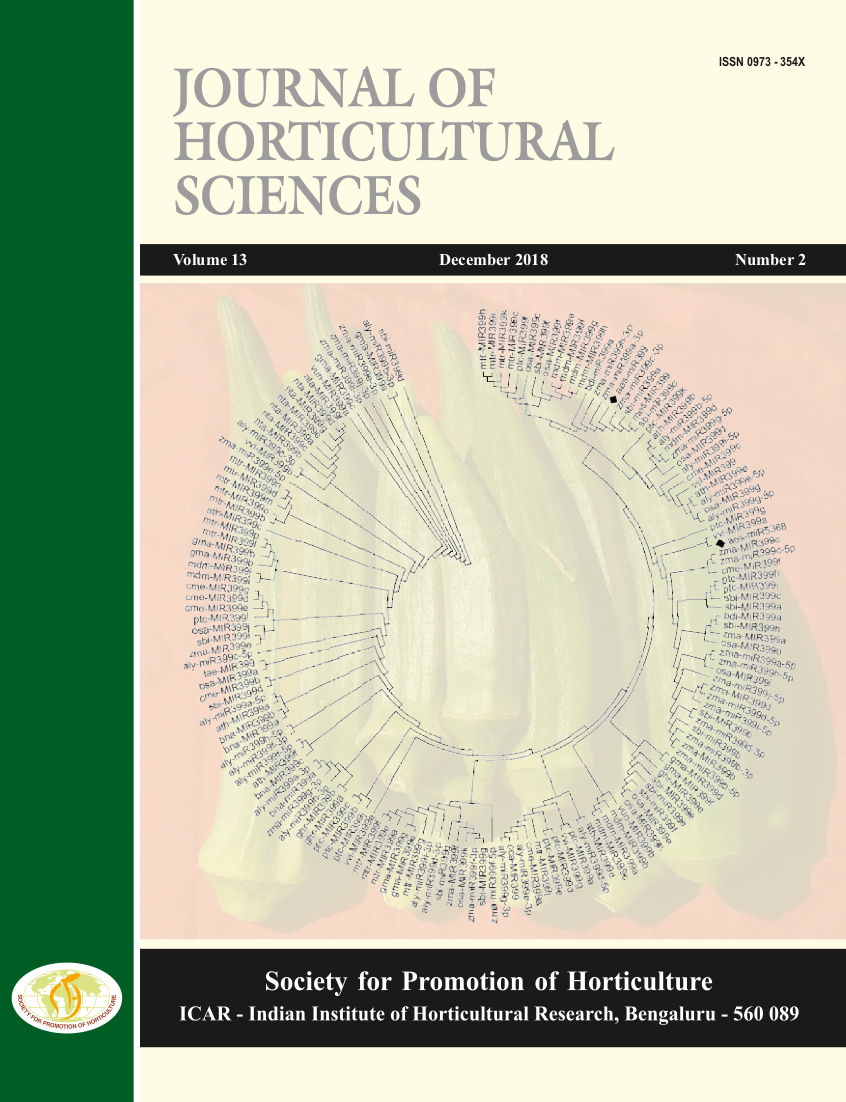 How to Cite
Shikhamany, S. D., Kalbhor, J. N., Shelke, T. S., & Mungare, T. S. (2019). Variation in the Interactions among soil K+, Ca++, Mg++ and Na+ ions as influenced by the variety and rootstock in grape. Journal of Horticultural Sciences, 13(2), 178-187. Retrieved from https://jhs.iihr.res.in/index.php/jhs/article/view/480
Section
Original Research Papers
Authors own the copyright and grant the journal, JHS and the society, SPH non-exclusive right to publish and distribute under the Creative Commons Attribution-NonCommercial-ShareAlike 4.0 International License