Ex-Situ Conservation of An Endangered Medicinal Plant Andrographis Paniculata By Plant Tissue Culture
Keywords:
callus, Kalmegh, medicinal plant, organogenesis, stem explants
Abstract
An effective and rapid in vitro regeneration protocol of Kalmegh (Andrographis paniculata) was established by investigating the factors like combinations of plant growth regulators and explant types (stem, leaf and midrib). To find out the effective medium for callus induction and shoot regeneration, different explants of A. paniculata were cultured on MS media enriched with several concentrations of 6-benzylaminopurine (BA), α-naphthalene acetic acid (NAA) and 2, 4-dichlorophenoxy acetic acid (2,4-D). Stem explant was noticed more responsive than leaf and midrib explant both in callus initiation and shoot regeneration. The ranges of callus initiation from stem, leaf and midrib explants were 26.67 - 100%, 20 - 93.33% and 13.33 - 73.33%, respectively. The calli obtained from midrib explants were not used in shoot initiation because of its poor size. The stem explant exhibited the maximum 73.33% shoot regeneration frequency in a comparison with leaf explants (60%). The maximum callus induction (100%) and shoot regeneration (73.33%) from stem explants were noticed in MS medium strengthened with 0.5 mg/L NAA and 2.0 mg/L BA and half strength MS media complemented with 0.1 mg/L NAA and 3.0 mg/L BA respectively. The highest shoot regeneration from the stem explant may be due to presence of more active parenchymatous cells than that of leaf explant. Half MS medium fortified with 2.0 mg/L IBA considered as best root initiation medium as it resulted in maximum rooting (93.33%). After acclimatization, the plants were transferred to field and found identical to the mother plant.
Downloads
Download data is not yet available.
References
Abhilasha, S. and Arpita, A.D. 2017. Study of in vitro micro-propagation of Medicinally Important Plant Andrographis paniculata from its Different Parts. Int. J. Sci. and Res., 6: 6-391.
Al-Mamun, M.A., Akhter, R., Rahman, A. and Ferdousi, Z. 2015. Efficient in vitro micro propagation of Andrographis paniculata and evaluation of antibacterial activity from its crude protein extract. Eur. J. Med. Plants, 6(4): 231.
Arif, M., Rauf, S., Din, A.U., Rauf, M. and Afrasiab, H. 2014. High frequency plant regeneration from leaf derived callus of Dianthus caryophyllus L. Am. J. Plant Sci., 5(15): 2454.
Avilés, F., Ríos, D., González, R. and Sánchez-Olate, M. 2009. Effect of culture medium in callogenesis from adult walnut leaves (Juglans regia L.). Chil. J. Agric. Res., 69(3): 460-467.
Ayuso, M., García-Pérez, P., Ramil-Rego, P., Gallego, P.P. and Barreal, M.E. 2019. In vitro culture of the endangered plant Eryngium viviparum as dual strategy for its ex situ conservation and source of bioactive compounds. Plant Cell Tiss. Organ Cult., 138(3): 427-435.
Bansi, T.S. and Rout, G.R. 2013. Plant regeneration protocol of Andrographis paniculata (Burm. f.)- an important medicinal plant. Afr. J. Biotechnol., 12(39): 5738-5742.
Bunn, E., Turner, S., Panaia, M. and Dixon. K.W. 2007. The contribution of in vitro technology and cryogenic storage to conservation of indigenous plants. Aust. J. Bot. 55: 345–355.
Calabrese, C., Berman, S.H., Babish, J.G., Ma, X., Shinto, L., Dorr, M. and Standish, L.J. 2000. A phase I trial of andrographolide in HIV positive patients and normal volunteers. Phytother. Res.,14(5): 333-338.
Chandran, N.A., Kuruvilla, S. and Pillai, P.U. 2017. Studies on in vitro rapid regeneration and shoot multiplication in Andrographis Paniculata. J. Cytol. Genet. 18: 75-80.
Deshmukh, A.S., Kadam, S.R., Belge, S.A., Nirgude, M.S. and Kharade, S.S. 2017. Initiation of callus culture and estimation of Andrographolide from Andrographis paniculata. J. Cell Tiss. Res., 17(1): 987-5990 4p.
Elangomathavan, R., Kalaivanan, P., Hariharan, P. and Beaulah, S.N. 2017. High efficient protocol for callus induction and regeneration of a medicinal plant Orthosiphon stamineus. Int. J. Adv. Res. Biol. Sci., 4(1): 113-122.
Elias, H., Taha, R.M., Hasbullah, N.A., Mohamed, N., Manan, A.A., Mahmad, N. and Mohajer, S. 2015. The effects of plant growth regulators on shoot formation, regeneration and coloured callus production in Echinocereus cinerascens in vitro. Plant Cell Tiss. Organ Cult. (PCTOC), 120(2): 729-739.
Gowthami, R., Sharma, N., Pandey, R. and Agrawal, A. 2021. Status and consolidated list of threatened medicinal plants of India. Genet. Resour. Crop Evol., 68: 2235-2263.
Hu, J., Gao, S., Liu, S., Hong, M., Zhu, Y., Wu, Y., Hu, D., Zhang, L. and Lei, T. 2019. An aseptic rapid propagation system for obtaining plumbagin of Ceratostigma willmottianum Stapf. Plant Cell Tiss. Organ Cult., 137(2): 369–377.
Isah, T., Umar, S., Mujib, A., Sharma, M.P., Rajasekharan, P.E., Zafar, N. and Frukh, A. 2018. Secondary metabolism of pharmaceuticals in the plant in vitro cultures: strategies, approaches, and limitations to achieving higher yield. Plant Cell Tiss. Organ Cult., 132: 239–265.
Jindal, N., Chaudhury, A. and Kajla, S. 2016. Establishment of callus cultures of Andrographis paniculata for the assessment of Andrographolide content. Int. J. Res. Ayurveda Pharm., 7(2): 19.
Jindal, N., Chaudhury, A. and Kajla, S. 2015. Shoot prolification and Multiplication from nodes of Andrographis paniculata. Int. J. Pharm., 6(9): 2230-8407.
Karlinsky, A. and Kobak, D. 2021. The World Mortality Dataset: Tracking excess mortality across countries during the COVID-19 pandemic. Version 3 medRxiv.
Kataky, A., and Handique, P.J. 2011. Effect of medium in shoot tips and nodal segments of Andrographis paniculata. Asian J. Sci. Technol., 4: 24-28.
Khan, M.S., Rahman, M.M. and Ali, M.A. 2001. Red Data Book of Vascular Plants of Bangladesh. Bangladesh National Herbarium, Dhaka. p70-71.
Kumar, A.R., Sridevi, K., Vijayakumar, N., Nanduri, S. and Rajagopal, S. 2004. Anticancer and immunostimulatory compounds from Andrographis paniculata. J. Ethnopharmacol.,92: 291-295.
Martin, K.P. 004. Plant regeneration protocol of medicinally important Andrographis paniculata (Burm. F.) Wallich ex Nees via somatic embryogenesis. In Vitro Cell. Develop. Biol. Plant. 40(2): 204-209.
Mishra, S.K., Sangawan, N.S. and Sangwan, R.S. 2007. Plant review Andrographis peniculata (Kalmegh): A Review. Pharmacognosy Reviews, 1(2): 283-298.
Mungole, A., Awati, R., Dey, S., Chaturvedi, A. and Zanwar P. 2009. In-vitro callus induction and shoot regeneration in Ipomoea obscura (L.), potent Indian medicinal plant. Indian J. Sci. Technol., 2(8): 24-26.
Nagalekshmi, R., Menon, A., Chadrasekharan, D.K. and Nair, K.K. 2011. Hepatoprotectie activity of Andrographis paniculata and Swertia chirayita. Food Chem Toxicol., 49(3): 367-3373.
Namoff, S., Husby, C.E., Francisco-Ortega, J., Noblick, L.R., Lewis, C.E. and Griffith, M.P. 2010. How well does a botanical garden collection of a rare palm capture the genetic variation in a wild population? Biol. Conserv., 143: 1110–1117.
Nurokhman, A., Faizah, H., Sugiharto, E.S.W.U. and Manuhara, Y.S.W. 2019. Effect of plant growth regulator and explant types on in vitro callus induction of Gynura procumbens (Lour.) Merr. Res. J. Biotechnol, 14: 9.
Ojha, S.K., Bharti, S., Joshi, S., Kumari, S. and Arya, D.S. 2012. Protective effect of hydro alcoholic extract of Andrographis paniculata on ischaemia-reperfusion induced myocardial injury in rats. Indian J.Med. Res, 135: 414-421.
Pholphana, N., Rangkadilok, N., Thongnest, S., Ruchirawat, S., Ruchirawat, M. and Satayavivad, J. 2004. Determination and variation of three active diterpenoids in Andrographis paniculata (Burm. f.) Nees. Phytochemical Analysis: Int. J. Plant Chem. Biochem. Techniq., 15(6): 365-371.
Purkayastha, J., Sugla, T., Paul, A., Solleti, S. and Sahoo, L. 2008. Rapid in vitro multiplication and plant regeneration from nodal explants of Andrographis paniculata: a valuable medicinal plant. In vitro cell. Develop. Biol. Plant., 44(5): 442-447.
Roy, P.K. 2014. In vitro propagation of Andrographis paniculata Nees.-A threatened medicinal plant of Bangladesh. Jahangirnagar Univ. J. Biol. Sci., 3(1): 67-73.
Sharma, G., and Nautiyal, A.R. 2009. Influence of explants type and plant growth regulators on in vitro multiple shoots regeneration of a laurel from Himalaya. Nat Sci, 7(9): 1-7.
Sharma, S.N. and Jha, Z. 2012. Production of Andrographolide from callus and cell suspension culture of Andrographis Paniculata. J.Cell Tiss. Res., 12(3): 7-201.
Silveira, F.A.O., Negreiros, D., Barbosa, N.P.U. Buisson, E., Carmo, F.F., Carstensen, D.W., Conceição, A.A., Cornelissen, T.G., Echternacht, L., Fernandes, G.W. and Garcia, Q.S. 2016.Ecology and evolution of plant diversity in the endangered campo rupestre: a neglected conservation priority. Plant Soil, 403: 129–152.
Sule, A., Ahmed, Q.U., Latip, J., Samah, O.A., Omar, M.N., Umar, A. and Dogarai, B.B.S. 2012. Antifungal activity of Andrographis paniculata extracts and active principles against skin pathogenic fungal strains in vitro. Pharmaceutical Biol., 50(7): 850-856.
Tandon, C., Mathur, P. and Sen, M. 2015. Andrographis paniculata Nees (Kalmegh): A review on its antibacterial activities and phytocompounds. Eur. J. Medcinal Plants, 8(1): 1-10.
Trivedi, N.P. and Rawal, U.M. 2001. Hepatoprotective and antioxidant property of Andrographis paniculata (Nees) in BHC induced liver damage in mice. Indian J. Exp. Biol., 39: 41-46.
Tusevski, O., Vinterhalter, B., Krstić Milošević, D., Soković, M., Ćirić, A., Vinterhalter, D., Zdravković Korać, S., Petreska Stanoeva, J., Stefova, M. and Gadzovska Simic, S. 2017. Production of phenolic compounds, antioxidant and antimicrobial activities in hairy root and shoot cultures of Hypericum perforatum L. Plant Cell Tiss. Organ Cult., 128: 589–605.
Verma, H., Negi, M. S., Mahapatra, B. S., Shukla, A., and Paul, J. 2019. Evaluation of an emerging medicinal crop Kalmegh [Andrographis paniculata (Burm. F.) Wall. Ex. Nees] for commercial cultivation and pharmaceutical & industrial uses: A review. J. Pharmacogn. Phytochem., 8: 835-848.
War, J.M., Talie, M.D., Bhat, Z.A., Wani, A.H., Bhat, M.Y., Gawande, P.A., Mohiuddin, Y.G. 2018. In-vitro callogenesis of medicinal important plant Andrographis paniculata (Burm. f) Nees. Int. J. Adv. Res. Sci. and Engg., 7(4).
Wang, J., Yang, W., Wang, G., Tang, P. and Sai, Y. 2014. Determination of six components of Andrographis paniculata extract and one major metabolite of andrographolide in rat plasma by liquid chromatography–tandem mass spectrometry. J. Chromatography B, 951: 78-88.
Wiart, C., Kumar, K., Yusof, M.Y., Hamimah, H., Fauzi, Z.M. and Sulaiman, M. 2005. Antiviral properties of ent‐labdene diterpenes of Andrographis paniculata Nees, inhibitors of herpes simplex virus type 1. Phytother. Res.,19(12): 1069-1070.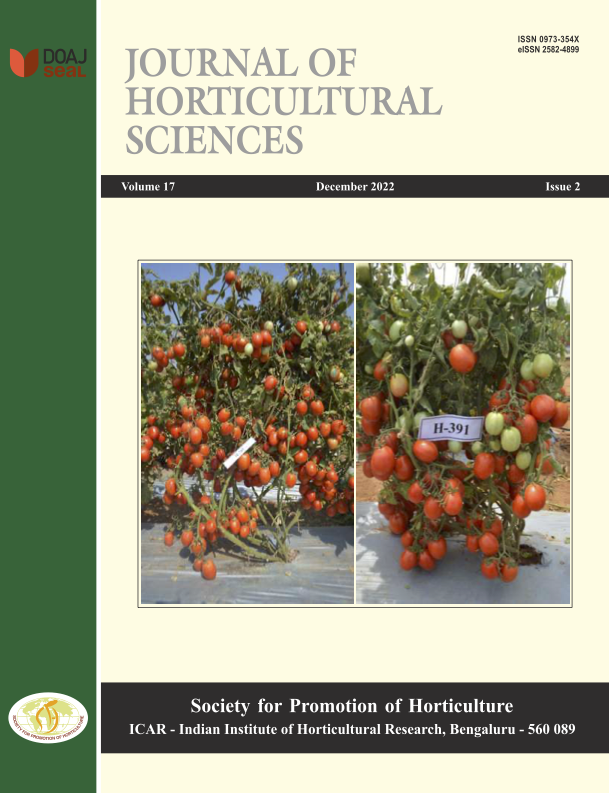 Downloads
How to Cite
Monika, M. A., Bhuiyan, M. S. U., Sarker, K. K., Dina, M. M. A., & Sultana, S. (2022). Ex-Situ Conservation of An Endangered Medicinal Plant Andrographis Paniculata By Plant Tissue Culture. Journal of Horticultural Sciences, 17(2), 467–478. https://doi.org/10.24154/jhs.v17i2.1425
Section
Original Research Papers
License
Copyright (c) 2022 Sayeda Sultana, Marjia Akhter Monika, Kishore Kumar Sarker, Mst Maiful Akter Dina, Mohammed Shafi Ullah Bhuiyan
This work is licensed under a Creative Commons Attribution-NonCommercial-ShareAlike 4.0 International License.
Authors retain copyright. Articles published are made available as open access articles, distributed under the terms of the Creative Commons Attribution-NonCommercial-ShareAlike 4.0 International License, which permits unrestricted non-commercial use, distribution, and reproduction in any medium, provided the original author and source are credited.
This journal permits and encourages authors to share their submitted versions (preprints), accepted versions (postprints) and/or published versions (publisher versions) freely under the CC BY-NC-SA 4.0 license while providing bibliographic details that credit, if applicable.