Impact of pollination strategies on fruit set and fruit growth attributes in jasmine
Usha

Tamil Nadu Agricultural University, Coimbatore - 641 003, Tamil Nadu, India

Ganga M

Tamil Nadu Agricultural University, Coimbatore - 641 003, Tamil Nadu, India

Rajamani K

Tamil Nadu Agricultural University, Coimbatore - 641 003, Tamil Nadu, India

Manonmani S

Tamil Nadu Agricultural University, Coimbatore - 641 003, Tamil Nadu, India

Gnanam R

Tamil Nadu Agricultural University, Coimbatore - 641 003, Tamil Nadu, India
Keywords:
Fruit set, fruit growth, jasmine, pollination
Abstract
Jasmine occupies predominant position among the flower crops in India in terms of area, production and productivity. The demand for jasmine flowers is growing day by day owing to its wide range of uses and there is a pressing need for improving the crop by exploring strategies to evolve diverse genotypes. The present study focuses on the hybridization of Jasminum spp with the objective of introgression of desirable traits that would aid in creation of wider genetic variability. Pollination is the basis in any hybridization programme. The main aim of this research study was to determine the suitable pollination methods among self, open and cross pollination and to assess the effect of the pollination methods on the fruit set and fruit characteristics. The results of the study revealed that the overall response of J. auriculatum was found effective with maximum fruit set percentage. J. auriculatum cv Parimullai yielded the highest fruit set of 76.43% under open pollination and the least fruit set rate of 2.14% under self-pollination. Among the possible cross combination involving J. auriculatum and J. grandiflorum cultivars as seed parents with various pollen parents, J. flexile showed considerable results. Cross combination of J. auriculatum x J. flexile recorded maximum fruit set revealing best cross compatibility while crosses involving J. sambac resulted in no fruit set indicating the prevalence of fertilization barriers that hinder hybridization.
Downloads
Download data is not yet available.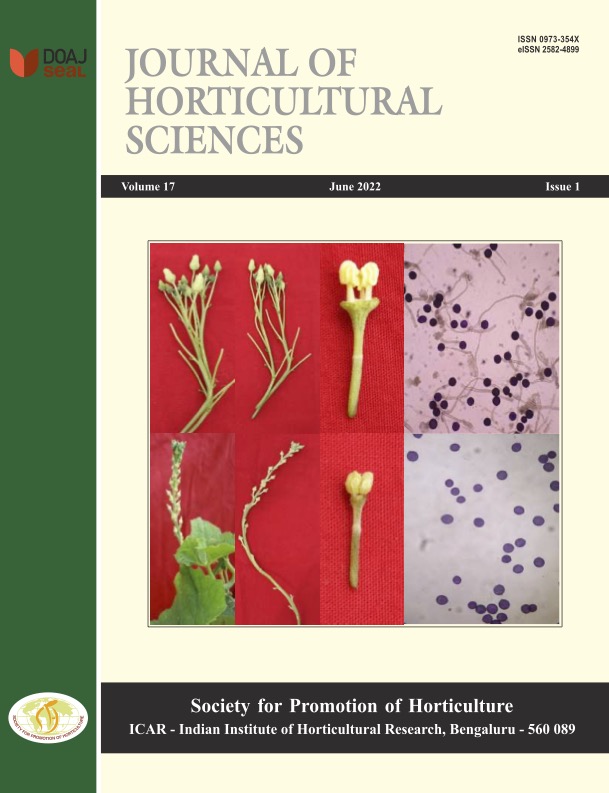 How to Cite
Usha, MG., KR., SM., & RG. (2022). Impact of pollination strategies on fruit set and fruit growth attributes in jasmine. Journal of Horticultural Sciences, 17(1), 73-82. https://doi.org/10.24154/jhs.v17i1.1376
Section
Original Research Papers
Copyright (c) 2022 Usha, Ganga M, Rajamani K, Manonmani S, Gnanam R
This work is licensed under a Creative Commons Attribution-NonCommercial-ShareAlike 4.0 International License.
Authors retain copyright. Articles published are made available as open access articles, distributed under the terms of the Creative Commons Attribution-NonCommercial-ShareAlike 4.0 International License, which permits unrestricted non-commercial use, distribution, and reproduction in any medium, provided the original author and source are credited.
This journal permits and encourages authors to share their submitted versions (preprints), accepted versions (postprints) and/or published versions (publisher versions) freely under the CC BY-NC-SA 4.0 license while providing bibliographic details that credit, if applicable.