Influence of potting mixture on growth and economics of stone graft of mango cv. alphonso
O A Lad

Dr. Balasaheb Sawant Konkan Krishi Vidyapeeth, Dapoli

M M Kulkarni

Dr. Balasaheb Sawant Konkan Krishi Vidyapeeth, Dapoli

S G Ragaji

Dr. Balasaheb Sawant Konkan Krishi Vidyapeeth, Dapoli

M S Gavankar

Dr. Balasaheb Sawant Konkan Krishi Vidyapeeth, Dapoli

M M Burondkar

Dr. Balasaheb Sawant Konkan Krishi Vidyapeeth, Dapoli

N B Gokhale

Dr. Balasaheb Sawant Konkan Krishi Vidyapeeth, Dapoli

C D Pawar

Dr. Balasaheb Sawant Konkan Krishi Vidyapeeth, Dapoli

R G Khandekar

Dr. Balasaheb Sawant Konkan Krishi Vidyapeeth, Dapoli

P J Kshirsagar

Dr. Balasaheb Sawant Konkan Krishi Vidyapeeth, Dapoli

V S Desai

Dr. Balasaheb Sawant Konkan Krishi Vidyapeeth, Dapoli
Keywords:
Alphonso, B:C ratio, Growth parameters, Mango, Soilless media
Abstract
Konkan is considered as an important mango belt of India. This belt is not only famous for the production of the king of mango 'Alphonso' but also for the supply of quality planting material throughout the country. Soil is the basic medium used in the nursery. Availability of quality soil for nursery is getting scared and it is a need of the hour to find out lightweight, well-aerated media for reducing transport cost and mortality. Hence field experiment was carried out to find the response of mango cv. Alphonso stone grafts in the different potting mixtures. The treatment cocopeat + leaf manure + compost (1:1:2) was recorded significant increase in plant height (129.40%), girth of grafts (38.08%), highest number of shoot (1.50), number of leaf (22.70), highest absolute growth rate (0.1483 cm/day) and relative growth rate (0.0237 cm/cm/day). Whereas, maximum leaf area (617.03 cm2) was obtained in soil + leaf manure (1:1) followed by leaf manure + cocopeat (1:3) (610.17 cm2) leaf manure + cocopeat (1:3). Maximum root length (21.97 cm) and dry weight of root (7.23g) were obtained in treatment cocopeat + leaf manure + compost (1:1:1). The economics involved for different treatments showed that cocopeat + leaf manure + compost (1:1:2) was recorded with the highest B:C (1.39) followed by Soil + Cocopeat (1:1) in stone grafting. From the above investigation, it is concluded that potting mixture had a significant effect on the growth performance and economics of mango grafts. For raising mango grafts, the media containing cocopeat along with leaf manure and compost was the ideal soilless media.
Downloads
Download data is not yet available.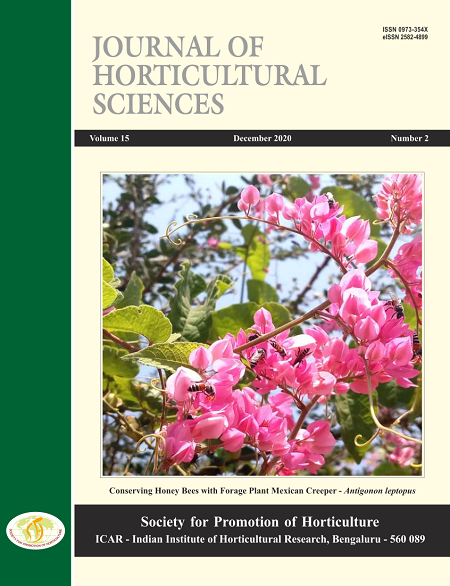 How to Cite
Lad, O. A., Kulkarni, M. M., Ragaji, S. G., Gavankar, M. S., Burondkar, M. M., Gokhale, N. B., Pawar, C. D., Khandekar, R. G., Kshirsagar, P. J., & Desai, V. S. (2020). Influence of potting mixture on growth and economics of stone graft of mango cv. alphonso. Journal of Horticultural Sciences, 15(2), 233-237. Retrieved from https://jhs.iihr.res.in/index.php/jhs/article/view/955
Section
Short Communications
Authors retain copyright. Articles published are made available as open access articles, distributed under the terms of the Creative Commons Attribution-NonCommercial-ShareAlike 4.0 International License, which permits unrestricted non-commercial use, distribution, and reproduction in any medium, provided the original author and source are credited.
This journal permits and encourages authors to share their submitted versions (preprints), accepted versions (postprints) and/or published versions (publisher versions) freely under the CC BY-NC-SA 4.0 license while providing bibliographic details that credit, if applicable.