Identification of circular RNAs in resistant tomato genotype in response to ToLCBaV infection
Keywords:
CircRNAs, RNA sequencing, ToLCBaVD resistance, tomato
Abstract
Circular RNAs (CircRNAs) are covalently closed non-coding RNAs that play an important role in a variety of biological processes. CircRNA profiling helps to understand biological process associated with various abiotic and biotic stresses. In tomato genotype IIHR- 2611 (resistant to ToLCBaV), a total of 193 CircRNAs were discovered, of which 72 and 121 were found in control (RC) and ToLCBaV inoculated (RI) plants respectively. Among them, 103 (53 %) were exonic CircRNA regulating the expressions of their parent genes. Relative expression of CircRNAs 2:45295638|45295796, 2:51520741|51530067 and 7:67566489|67566691 and their respective parent genes Solyc02g080530.3 (peroxidase), Solyc02g088950.2 (superoxide dismutase) and Solyc07g065840.2.1 (heat shock protein 90) response to ToLCBaV infection were analysed at different time intervals. A significantly positive correlation was observed for the expression profiles of all three circRNAs and their parent genes. Furthermore, the differential expression across samples as well as time interval indicates that CircRNA mediated gene expression is involved in viral resistance. The results of the expression assays of both superoxide dismutase and peroxidase were consistent with enzyme analysis. Overall findings demonstrated the importance of CircRNAs in ToLCBaVD resistance and suggested that CircRNAs could be key regulators of gene expression during disease resistance in tomato.
Downloads
Download data is not yet available.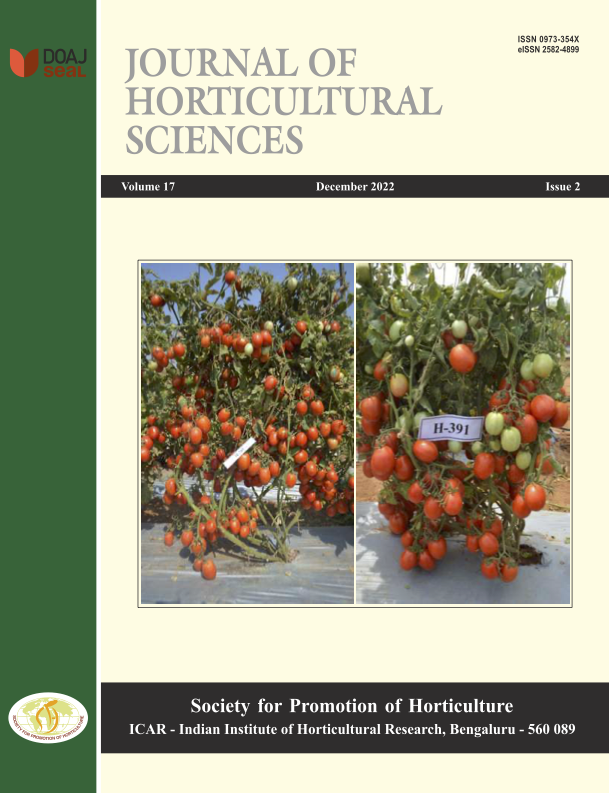 Downloads
How to Cite
Chidambara, B., Elangovan, D. ., Avverahally , S., Reddy, K., & Kundapura, R. (2022). Identification of circular RNAs in resistant tomato genotype in response to ToLCBaV infection. Journal of Horticultural Sciences, 17(2). https://doi.org/10.24154/jhs.v17i2.1520
Section
Original Research Papers
License
Authors retain copyright. Articles published are made available as open access articles, distributed under the terms of the Creative Commons Attribution-NonCommercial-ShareAlike 4.0 International License, which permits unrestricted non-commercial use, distribution, and reproduction in any medium, provided the original author and source are credited.
This journal permits and encourages authors to share their submitted versions (preprints), accepted versions (postprints) and/or published versions (publisher versions) freely under the CC BY-NC-SA 4.0 license while providing bibliographic details that credit, if applicable.