Effect of different growth media on biometric parameter of brinjal and chilli seedlings under shade net house
Keywords:
Brinjal, chilli, germination percentage, growth media, growth parameters
Abstract
The study was undertaken for two consecutive years (2017 and 2018) to evaluate the effect of different growth media on various growing parameters and incidence of insect pest on brinjal and chilli seedlings. Seedlings were grown in protray using six types of growing media. The highest germination percentage (71.11), plant height (11.05 cm), number of leaves (5.81) and percentage healthy seedlings (89.82) were observed with vermiculite + perlite + vermi- compost (1:1:2) during both the years in brinjal. Similarly in chilli, highest germination percentage (66.33), plant height (9.81 cm), number of leaves (5.62) and percentage healthy seedlings (87.61) were observed with vermiculite + perlite + vermi-compost (1:1:2). There was significantly low incidence of whitefly in brinjal (1.49 whitefly/leaf) and chilli (1.65 whitefly/ leaf) seedling grown in media with vermiculite + perlite + vermi-compost (1:1:2). Hence, vermiculite + perlite + vermi-compost (1:1:2) was found as optimum growth media for growing of chilli and brinjal seedlings. The findings of this study recommend the use of vermiculite + perlite + vermi-compost (1:1:2) as growth media for raising nursery by farmers as it had significant positively effect on plant growth parameters of seedlings that lead to increase production of chilli and brinjal.
Downloads
Download data is not yet available.
References
Anonymous. 2019. Package of Practices for Cultivation of vegetables. Punjab Agricultural University, Ludhiana, India.
Bhardwaj, A. Goswami, B.K. Bhardwaj, V. and Singh, N. 2019. Effect of organic amendments and growing media on plant attributes of brinjal nursery. Plant Archives. 19:44-46.
Borah, N. and Saikia, D.K. 2017. Seasonal incidence of major insect pests of brinjal and their natural enemies. Ind J Entomol. 79(4): 449-455.
Gangwar, R.K. and Singh, D.V. 2014. Study on insect pest succession of brinjal crop ecosystem in western region of Uttar Pradesh, India. J Biol Agricul Healthcare. 4(17): 116-119.
Gomez, A.K. and Gomez, A.A. 1984. Statistical Procedures for Agricultural Research. John Wiley and Sons, NewYork, USA, p.680.
Gruda, N. Caron, J. Prasad, M. and Maher, M.J. 2016. Growing media. In Encyclopedia of Soil Sciences, 3rd ed.; Lal, R., Ed.; CRC Press Taylor & Francis Group: Boca Raton, FL, USA. Pp1053–1058.
Islam, N.M. Mohammad, A.T. Zhang, Z. Zhang, Y. and Liu, T. 2017. High Level of Nitrogen Makes Tomato Plants Releasing Less Volatiles and Attracting More Bemisia tabaci (Hemiptera: Aleyrodidae). Front Plant Sci. 8: 466-474.
Kumar, S. Sachan, S.K. Vinod, K. and Gautam, M.P. 2019. Abundance of insect pests associated with brinjal (Solanum melongena L.) crop. J Entomol Zool Stud. 7(3): 1014-1017.
Mahala, P. and Sharma, R. K. 2020. Evaluation of different growing media for tomato nursery. Veg Sci. 47:146-49.
Najar, I.A. Khan, A.B. and Hai, A. 2015. Effect of macrophyte vermicompost on growth and productivity of brinjal (Solanum melongena) under field conditions. Int J Recycl Org Waste Agric. 4: 73-83.
Nissi, F.G. 2018. Growth of Tomato (Solanum lycopersicum L.) Seedlings in Different Potting Mixes, Under Hi-Tech Nursery in Green House Conditions. Int J Pure App Biosci. 6(5): 692-695.
Savvas, D. and Gruda, N. 2018. Application of soilless culture technologies in the modern greenhouse industry-A review. Eur J Hortic Sci. 83: 280–293.
Singh, M. 2015. Studies on occurrence and biopesticidal management of shoot and fruit borer, Leucinodes orbonalis (Guenee) in brinjal. M.Sc (Ag.) Entomology thesis, Sardar Vallabhbhai Patel University of Agriculture and Technology, Meerut., Pp 57.
Subhashree, P. Ashima, M. Nayak, A.K. and Thakoor, P. 2018. Seasonal Incidence of Different Sucking Pests of Chilli and their Natural Enemies under West Bengal Condition. Int J Curr Microbio App Sci 7(10): 2936-2948.
Unal, M. 2013. Effect of organic media on the growth of vegetable seedlings. Pakistan J Agric Sci. 50(3): 517-522.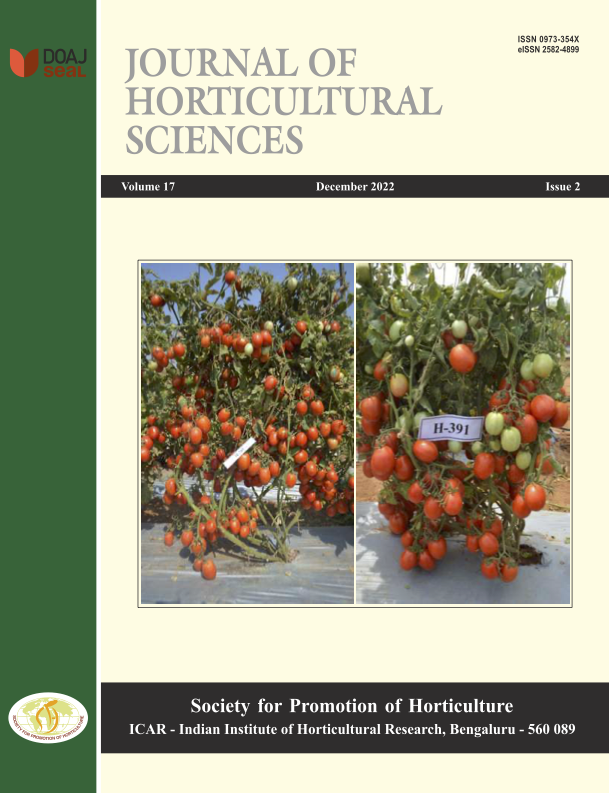 Downloads
How to Cite
Prakash Mahala, & Rakesh Kumar Sharma. (2022). Effect of different growth media on biometric parameter of brinjal and chilli seedlings under shade net house. Journal of Horticultural Sciences, 17(2). https://doi.org/10.24154/jhs.v17i2.1340
Section
Original Research Papers
License
Authors retain copyright. Articles published are made available as open access articles, distributed under the terms of the Creative Commons Attribution-NonCommercial-ShareAlike 4.0 International License, which permits unrestricted non-commercial use, distribution, and reproduction in any medium, provided the original author and source are credited.
This journal permits and encourages authors to share their submitted versions (preprints), accepted versions (postprints) and/or published versions (publisher versions) freely under the CC BY-NC-SA 4.0 license while providing bibliographic details that credit, if applicable.